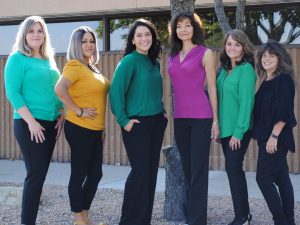 Our dentist has been providing excellent dentistry in Albuquerque, New Mexico, since 2007. When you bring your family to Ravago Dental, you will see that our team is very personable, taking the time to get to know each of our patients. We are not here to simply sell our services, but rather we work to support your oral needs and cosmetic desires. Some things that set us apart from other dental practices include:
Our Dentist: Dr. Melissa Ravago has extensive dental training and has even taught dentistry when she served as an Associate Professor for the University of New Mexico. She is well educated, so you can trust her to provide quality dental procedures and treatments for your family.
Our Team: The members of our amazing team have served in this area for several years and they take the time to get to know our patients. When you visit us for dental care, our friendly team won't treat you like a number, but as a person who deserves quality dental treatment.
Our Services: Our dental office is a comprehensive one that provides several types of restorations to protect the health of your smile. Whether you are a child with incoming permanent teeth or an adult with missing teeth, our dentist can help your family have healthy, beautiful smiles.
Our Office: Our team strives to keep the atmosphere of our dental office cozy and comfortable so our patients can feel relaxed when they visit us for dental care. We also have high-tech equipment like intraoral cameras and digital x-rays that help us do a better job at caring for your teeth.
To set up your next appointment with our friendly dentist and team, contact our office today.